About us
Primarily, most of our business comes from the supply and decoration of all types of workwear to companies both small and large. We provide clothing such as Polo shirts, tee shirts, sweatshirts, hoodies fleeces, Jackets, Hi-viz, soft shell, trousers, caps, beanies, bags, boots and protective clothing. We supply only the best brands available in th U.K. such as Fruit of the loom, Gildan, Regatta, Result Kustom Kit, Uneek, Yoko, Dickies, awdis, Henbury and many more. We print and embroider our customers company names or logos onto all of these products. If you haven't got a logo, its not a problem, our design department, working closely with the customer can produce one for you.
We have a dedicated seperate website that specificly caters for our business customers which you can find at
Alternatively, we also have a seperate department that specialises in joke and slogan t-shirts. These can be made in any colour, in any size with any colour print. Allowing our customers to create a unique garment. We add to the designs weekly so that there
is always something new.
We have over 20 years experience in direct to garment printing and embroidery. We use only the latest technology and materials to ensure that our customers always recieve quality garments. Gone are the days when printing falls off, our superior vinyls are tested to last.
Although we have offices in Farnborough in Hampshire, we moved to our current premises in sunbury in Middlesex in 2007.
We are Fabric Printers specialisng in all types of garment printing and embroidery. From caps to hoodies, polo's and bags, we supply, design and print on almost any garment and are renowned as the highest quality garment printer in Sunbury and Farnborough.
PLAN A PRINTERS, 133 VICARAGE ROAD, SUNBURY, MIDDLESEX, TW16 7QB
plan a workwear is a local Surrey and Heathrow based business specialising in custom t-shirt printing, uniforms and promotional merchandise solutions. You can design your own t shirt and we'll print for you. T–shirt printing Surrey with no minimum orders.
t shirt printing surrey, t shirt printing Heathrow, polo shirt printing Middlesex, workwear hampshire,
t shirt printing Sunbury, custom t shirts Surrey, embroidered polo shirts Middlesex,
t shirt printing Hayes, t shirt printing London, embroidered polo shirts Hampshire
t shirt printing, workwear printing Surrey, printed polo shirts Hampshire
workwear printing farnborough, workwear printing Hampshire
workwear polos, workwear middlesex,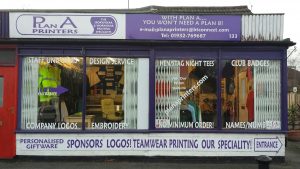 WITH PLAN A, YOU WON'T NEED A PLAN B!