SAMPLES OF SOME OF OUR CUSTOMERS LOGOS
company-logos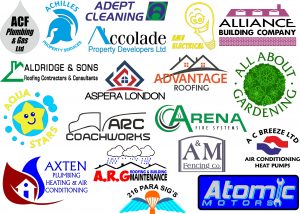 ---
The images above are just a selection of some of our customer logos that we have either printed or embroidered onto their workwear…. AND THESE ARE JUST THE "A'S"
On average. our art department produces nearly twenty new logos a week for our customers. If your company already has a logo, our art department can copy it and get it set up ready for printing or embroidery.If you haven't got a logo but would like us to design one for you, please contact our sales people on 01908-229745 where they will be happy to chat through your requirements and produce a professional company logo that will look great on your workwear.
Or alternatively email your request : planaprinters@btconnect.com
---
company logos hampshire, company logos Middlesex, company logos Surrey, company logos Dorset, company logos Berkshire, company logos Hertfordshire, company logos London, company logos Bedfordshire, company logos Kent, company logos Sussex, company logos Essex, company-logos Wiltshire, company-logos Somerset. company logos farnborough, company logos Camberley, company logos Southampton, company logos Heathrow.
---
To make things easier and cheaper for our customers we offer free post and packaging on all orders. All of our work is carried out at our Milton Keynes workshop and distributed direct to your door. We carry out all work ourselves. We NEVER farm out our orders to any third party unlike some of our competitors, as quite frankly, we are very fussy about how our workwear looks and we are just as proud of our hard-earned reputation. We would never let our customers wear something that we wouldn't be happy to wear ourselves. With Plan A workwear, quality is a given!
---
workwear middlesex, workwear Surrey, workwear sussex, workwear kent, workwear Dorset, workwear hampshire, workwear London, workwear Berkshire, workwear Herts, workwear Berdfordshire, workwear farnborough, workwear camberley, workwear Somerset
---
PLAN A PRINTERS
7 EARL ROW, MARKET SQUARE, HANSLOPE, BUCKS, MK19 7LN
01908-229745
WITH PLAN A, YOU'LL NEVER NEED A PLAN B
---