M & M LONDON WORKWEAR
M & M London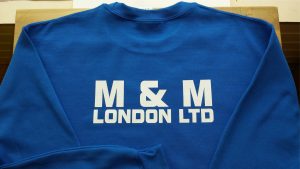 We have been supplying our friends at M & M London with their workwear for many years. The image above shows their sweatshirts which are printed in white. We also provide them with their t-shirts and polos, which are also printed.
If you would like a quotation, or would like to buy similar for your company or club, please click on the links below.
---
We also supply many companies throughout the capital with their workwear London. We can provide embroidered polo shirts London, or embroidered sweatshirts London, or even embroidered fleeces London, Just call our sales hotline on 01932-769687 and we can give you a full quotation for all your workwear London needs. Alternatively, if you prefer you can always e-mail your embroidered workwear London requirements through to us at sales@planaworkwear.com and we will get back to you as quickly as possible.